Read the class member names featured while the photo loads...
CHS Class of 1952 - Maxi-III Reunion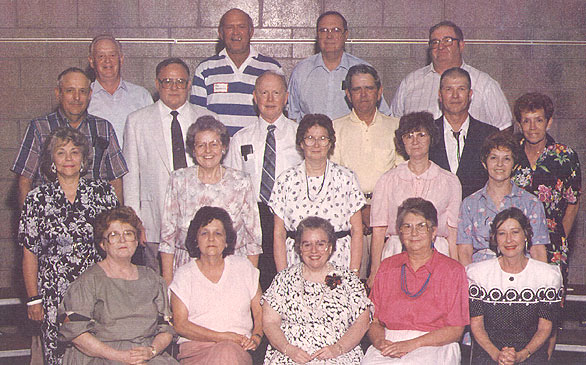 Front row, left to right: Mary Ann (Conn) Meador; Minetta (McCullough) Highshew; Virginia Wall, class sponsor, Chillicothe; Lola (Reeter) McNally; Pat (Leffler) Noble. Second row, Dottie (McQueen) Yeomans; Donna (Bailey) Anderson; Geraldine (Wilson) Reeter; Rogean (Hill) Clodfelter; Jo Ann (Sutton) Nichols. Thrid row, Darrell Pepper, Robert Cashatt, Donald Brown, Bill Tye, Leon Cox, Coleen (Williams) Howard. Fourth row, Ray Sykes, Roy Yeomans, Bob Eckert, and Tom Beedle.
Back to Reunions Revisited
Close This Page | Print This Page
Maxi Home