Read the class member names featured while the photo loads...
CHS Class of 1950 - Maxi-IV Reunion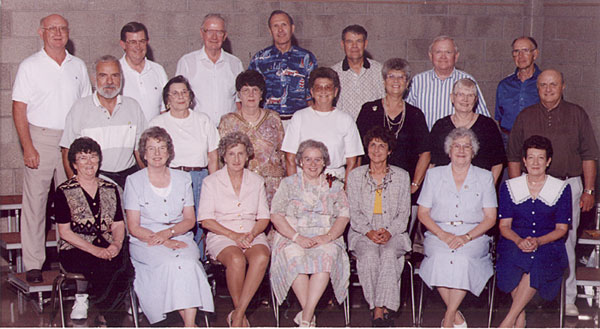 Front row, left to right: Pat Mendenhall Stoecker, Ina May Breeden Malone, Phyllis Gibbons Collier, Virginia Wall, Marilyn Mason Haston, Ramona Bethards McDonald and Marilyn Brown Dolan. Second row, from left: James Nichols, Nancy Grubb Plummer, Charlene Cooper Babb, Phyllis Willard Capps, Pat Lambert Pauley, Martha Rickerson Gall, and Charles Moser. Third row, from left: Ivan Phillips, Vernon Day, Dale Fairchild, Bill Thompson, Bob Fairchild, Bob Plummer, and Gene Finch.
Back to Reunions Revisited
Close This Page | Print This Page
Maxi Home