MAXI-VIII Reunion News' Release

CHS Classes of 1950s a Big Success
10-14-16

The Chillicothe High School classes of the 1950s recently held their eighth Maxi Reunion in Chillicothe, and Chairman Ed Robertson and the members of the Planning Committee agreed that the three-day event was a huge success. A Friday night reception, Saturday bus tours of the City, visiting at the host hotel as well as other Chillicothe hotels and business places, a Saturday night banquet catered by Nico'Z followed by a program, and a Sunday morning brunch filled the eighth reunion schedule for the grads who have met every five years since the event was first suggested in 1981. Robertson said there were 175 persons at the Friday night reception, 275 at the Saturday night program and banquet, and 116 at the Sunday morning brunch.

The opening welcome at the Saturday night banquet was by Robertson, and Mayor Chuck Haney gave the official welcome and made some brief comments about what had been accomplished by the City of Chillicothe in the past five years. Rev. Larry Reeter of the Class of 1958 gave the invocation. Bonnie Mitchell of the Class of 1956 delivered a memorial tribute to the late Virginia Wall - longtime teacher and senior class sponsor - and Ted Blankenship of the Class of 1953 made comments and sang "Friends", a song requested by Miss Wall that Blankenship had sung at a past reunion. Robertson thanked everyone for taking the time to plan and attend the reunion and gave recognition of the planning committee and sub-committee members, and recognized the official Reunion Planning Committee Officers for all their work in planning the reunion. The planning committee members were William "Bill" Thompson (1950), Peggy Switzer and Bill Gibson (1951), C. S. "Bud" Jones and Ron O'Dell (1953), Carole Myers, Dorothy Spidle and Kenneth Fries (1954), Nancy Fries, Chuck Haney, Janet Jones, and Ralph Summerville (1955), Charlotte Alexander and Bonnie Mitchell (1956), Eddie D. Robertson (1957), Joan Holcer (1958), and Nancy Hoyt (1959).

Robertson traced the steps of the planning for the reunion that began in January, 2016, reviewed the two mailings, and pointed out the reunion website, www.chs-maxi-reunion.org. He said that 347 graduates responded to the mailings, and 183 attended with a total of 275 that included spouses and guests. The best attendance of grads came from the class of 1956 with 30, and there were 29 from 1957, 23 from 1955, 20 from 1958, and 19 grads from 1959. Fewest from any class was 1952 with only 8 graduates returning, according to statistics compiled by Robertson. Each of the classes was introduced and asked to stand to be recognized by emcee Haney. Secretaries of the 10 classes as well as a contact person for former faculty members and school secretaries were on hand at The Elks Lodge Friday and Saturday evenings to register persons and hand out Maxi reunion books that had been prepared for all classes and to present each classmate with their commemorative CHS Maxi-VIII Reunion coffee mug.

The Maxi Reunion books are still available for purchase. The Reunion book contains the names of all '50's graduates by class as well family information and addresses, if available, as well as special stories about the school, stadium, photos, and reunions in the 66-page book. Interested persons may contact Chairman Robertson at Robertson Insurance Services office 660-646-3377 in Chillicothe or Secretary Bonnie Mitchell at her Chillicothe office at 660-646-5050. The reunion books are $10 and additional commemorative coffee cups are $2. Pictures of the old high school building by Kelly Poling also are available. Saturday night there were drawings for door prizes for each class; the gifts were custom made CHS Hornet caps, shirts, and blankets created by Community Press, Inc.

At all reunion events, city maps, mural maps, Jamesport brochures, and other flyers highlighting area points of interest were displayed by Ron O'Dell. Also, Bonnie Mitchell arranged a display of copies of the book, The Virginia Wall Story, which was published by The Virginia Wall Scholarship Fund; several books were sold, and several contributions were received for The Virginia Wall Scholarship Fund.

The entire eighth Maxi Reunion was under the direction of Robertson and his 15-member committee and class secretaries or classmates who volunteered to serve as class secretaries. The officers of the event, besides Robertson and Mrs. Mitchell, were Treasurer Nancy Campbell Hoyt (1959), and Assistant Treasurers Joan Holcer (1958), Joyce Hayen (1957), and Mrs. Mitchell (1956). Serving as class secretaries were William (Bill) Thompson (1950), Peggy Switzer (1951), Bonnie Mitchell (1952), C.S. (Bud) Jones (1953), Carole Myers (1954), Nancy Fries (1955), Charlotte Alexander (1956), Ed D. Robertson (1957), Joan Holcer (1958), and Nancy Hoyt (1959 and the faculty). Class Photographs were taken prior to the Saturday banquet by Jon Shannon from Bailey Studio. The Boosters Page names were registered by Ralph Summerville (1955); the reunion book was printed by Scott Rule at Community Press; decorations were made by Chairperson Carole Myers, Dorothy Spidle, and Rose Pepper; door prizes by Chairperson Peggy Switzer and Charlotte Alexander; and the web site update by Ed D. Robertson. Menu planning was by Robertson, Joan Holcer and Chuck Haney. The bus tours of the City and recent community additions since the last reunion in 2011 were narrated by Ed Turner and arranged by Chuck Haney.

Special appreciation was given in the reunion book to Jon Shannon of Bailey Studio, Scott Rule of Community Press, Inc., The Elks Lodge, Ed Turner, and Brenda Fellhoelter, web site design master.

There are plans for perhaps one more reunion in five years. Suggestions may be made to any of the committee members or Mr. Robertson.
---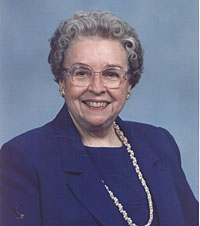 A Memorial Tribute to Miss Virginia Wall
By BONNIE MITCHELL
NOTE: Bonnie Mitchell of the class of 1956 gave a memorial to the late Virginia Wall, longtime teacher and senior class sponsor.

Thirty-five years ago, Virginia Wall and Bob Fairchild joined their efforts to organize something new in the realm of class reunions. They proposed a coming together of ten separate classes of the nineteen fifties in an event to be known as a Maxi reunion. Although they faced some initial skepticism their efforts were, of course, a success and on that memorable date of June 13, 1981, nearly 600 graduates & spouses gathered in the old auditorium at Chillicothe High School. They represented nineteen states and Tokyo, Japan. I wonder how many of you were there that evening?

Each five years since that time another Maxi has been held, with VirginiaWall present either in a supervisory role or, as during the last two, as an advisor and participant. She attended every planning meeting and she was always glad to share her opinions. She was one of the first people to greet you as you entered the building, and, at some time during the event, she would take the stage. Five years ago she appeared at this point in the program to recognize those classmates who had passed during the previous five years.

Today, we must sadly add her own name to that list. We had assumed she would be in attendance this year. Her short term memory was beginning to present some problems but she was in good physical health, had celebrated her 94th birthday in May, and, as usual, received well more than a hundred birthday cards from her friends, relatives, and former students. She lived in her own home with in-home care. Last year, she was able to attend several different class reunions and appeared in their class pictures in her usual front row, center seat. This July, she suffered a fall in her home that resulted in a broken hip. She underwent successful repair surgery in Kansas City and was transferred back to Hedrick Medical Center for recovery and therapy. All appeared to be going well. The therapists had her on her feet and she even took a couple of steps. In fact, her doctor stated she would probably be going back to her home in a couple of days. For some reason, several things seemed to go wrong during those two days and suddenly, she was gone.

We will miss her presence here. Many of you looked forward to seeing her every five years as she certainly looked forward to seeing all of you. Her amazing memory never failed and she still seemed to remember something about almost every student she ever had. While in the hospital in July, she received many get-well cards. Later, the cards were given to me and I went through them. One in particular struck me as something that could have come from almost any of us. It included a lengthy, four-page note from a former student and it began as many of those notes over the years have done, with the writer telling of her family. She mentioned the business she and her husband managed and the names and ages of her children. She also told of an instance during her senior prom when she had worn a strapless dress and it was causing her some embarrassment. Miss Wall saw her predicament and came to her rescue. We all know that Miss Wall never wore a strapless gown in her life, but she knew how to help her student with the problem. But then she said some things that I would like to quote. She wrote, "I think of you often, Miss Wall. Especially when I forget my password to various accounts. Often, one of the security questions I choose is 'Who was your favorite teacher?' and of course, the answer is 'Miss Wall'." I, too, have used that same question a number of times with that same answer, and I would imagine that many of you could say the same. She closed with a powerful compliment and again I quote "Never doubt the impact you had on the lives of the thousands of students you taught, Miss Wall. I thank you for loving us enough to teach us not only how to diagram sentences, but how to set high goals for ourselves and how to work hard to obtain them. Your legacy lives on."

I feel sure that all here will agree with that thought. We all knew her as an extraordinary teacher - one who was committed, dedicated and gifted. And as long as there are any of her CHS students alive, being graduates of the classes of 1946 through 1991, her legacy will indeed live on.

The Virginia Wall Scholarship Fund

"The Virginia Wall Story" by Bonnie Mitchell. Proceeds from sale of the book go to the Virginia Wall Scholarship Fund. (For details, download the 760KB PDF flyer.)